Founded in 1984, Chelsea Green Publishing is recognized as a leading publisher of books on the politics and practice of sustainable living, publishing authors who bring in-depth, practical knowledge to life, and give readers hands-on information related to organic farming and gardening, ecology and the environment, healthy food, sustainable economics, progressive politics, and, most recently, integrative health and wellness.
Chelsea Green titles have received numerous awards, including a New York Times Notable Book of the Year, a Los Angeles Times Book Prize finalist, 800 CEO Read Business Book of the Year Award, ALA and Booklist Notable Books of the Year, the John Burroughs Medal, James Beard Award finalist, A Readable Feast Cookbook Award, IACP Cookbook Award, New York Book Show Design Award, Garden Globe Award, and Foreword Reviews Books of the Year, as well as numerous Nautilus Book Awards and awards from the American Horticultural Society.
Foreword Reviews named Chelsea Green its Independent Publisher of the Year (2012) for our "significant contributions in the categories of politics and sustainable living."
In 2012, Chelsea Green decided to practice what it publishes and became an employee-owned company, creating an ESOP in which employees control 78 percent of the company's privately held stock; the remaining stock is held by the founders. The long-term goal of converting the ownership to an ESOP is aimed at keeping Chelsea Green an independent publisher, keeping its roots firmly planted in Vermont, and ensuring that the publishing vision started in 1984 lives far into the future.
Chelsea Green is also an industry leader when it comes to book publishing as a craft. Our team of editors works closely with each author to develop their manuscript before it even heads into the production and design process. We also have in-house design, sales, and marketing teams—including events, media, and publicity outreach, as well as social media and online marketing—that allow us to provide a full suite of support services for our authors. We are a founding member of the Green Press Initiative and have been printing books on recycled paper since 1985, when our books first appeared in bookstores.
In 2006, we updated our company's vision, purpose, and approach to continue to inspire staff, authors, shareholders and business partners:
Chelsea Green sees publishing as a tool for effecting cultural change. Our purpose is to reverse the destruction of the natural world by challenging the beliefs and practices that are enabling this destruction and by providing inspirational and practical alternatives that promote sustainable living.
We seek to promote better understanding of natural systems as a global commons. We seek to empower citizens to participate in reclaiming the commons, to serve as its effective stewards, and to help mitigate worldwide social and environmental disruptions.
We seek to build a community of new voices that will empower and inspire individuals to reduce their ecological impact and to participate in the restoration of healthy local communities, bioregional ecosystems, and a diversity of cultures.
We accomplish this by publishing for the practice and politics of sustainability. We provide information about organic growing and renewable energy, while also providing information about democratic citizenship, political action, and cultural resistance and rebirth.
We are determined to remain an independent publisher, and to function as a sustainable business. This comprises responsible stewardship of our four types of capital, as follows:
Intellectual capital – cultivate collaborative, respectful relationships with authors and readers to share and grow a body of practical and political knowledge.
Social capital – increase our employees' satisfaction, contribution, and reward through shared ownership; build existing and new readers' commitment to our mission through web-based and other social networking.
Natural capital – reduce the ecological footprint of our publishing by using recycled paper and reducing transportation-related energy consumption.
Financial capital – structure the business to provide a return on shareholders' capital and maintain independence through a capital investment strategy that can be financed internally.
Our Commitment to Green Publishing
We lead the industry both in terms of content—foundational books on organic agriculture, eco-cuisine, renewable energy, green building, and ethical business—and in terms of environmental practice, printing 95 percent of our books on recycled paper with a minimum 30 percent post-consumer waste and aiming for 100 percent whenever possible. We also print our books in North America, as opposed to overseas like many publishers, with most of our printing partners based in the United States.
As well as being a publisher of books for sustainable living, Chelsea Green is committed to being a sustainable business enterprise. This means reducing natural resource and energy use to the maximum extent possible. We print our books and catalogs on chlorine-free recycled paper, using soy-based inks, whenever possible, and we exclusively work with printers based in North America (and almost exclusively within the United States), rather than overseas. This keeps our carbon footprint and reliance on fossil fuels to a minimum.
We are members of the Green Press Initiative, a non-profit organization dedicated to increasing the use of recycled paper in the book industry. Publishers who join the Green Press Initiative make a pledge that at least ten percent of their book titles will meet or exceed the Initiative's recycled content and bleaching process.
As part of our commitment to this process, we also include an environmental impact statement in each book we publish, identifying to readers how much trees, wastewater, solid waste, and greenhouse gases were conserved or mitigated by living up to these greener standards.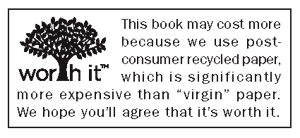 For more information please visit their site: http://www.greenpressinitiative.org
Chelsea Green is one of the first publishers to sign on to the Green Press Initiative. Here is the WorthIt logo we put on all our new books.
This approach is a perfect example of what is called a "triple bottom line" practice, one that benefits people, planet, and profit, and the emerging new model for sustainable businesses in the 21st century.
We have more than 400 titles in publication, our best-selling titles include:
The Art of Fermentation. This was our fourth New York Times Bestseller and our first James Beard Foundation Book Award winner (for Reference and Scholarship). With a foreword by Michael Pollan, this book is the most comprehensive and definitive guide to fermentation. The Art of Fermentation had sold more than 100,000 copies worldwide. Another perennial bestseller is Katz's first book, Wild Fermentation, which is often pointed to as the book that fomented the fermentation revival.
Eliot Coleman's The New Organic Grower, The Four-Season Harvest, and The Winter Harvest Handbook are landmark books in sustainable agriculture and organic food. Foreign-language editions continue to demonstrate his influence on farmers around the world. In 2018, The New Organic Grower 30th Anniversary Edition will be published, bringing fully up-to-date the book that influenced generations of new farmers and started the organic farming revolution.
Don't Think of an Elephant. George Lakoff's definitive handbook for progressives to understand and communicate effectively about key political issues started the national discussion on framing the political debate. More than 200,000 copies printed in six months, and more than 300,000 sold since its first printing. It remains a fundamental book on political messaging, and how to best communicate one's message in a positive way.
The End of America, Naomi Wolf's gut-wrenching patriotic call to action. This New York Times Bestseller urges every American to recognize the fragility of freedom. Wolf catalogs the ten steps that governments have historically followed when shutting down an open society such as our own.
The Man Who Planted Trees, an ecological fable that has sold more than 300,000 copies in 18 years, setting a standard for quality of writing, beauty of design and illustration, creative publishing and inspirational message;
The Straw Bale House, a revolutionary building book that has sold more than 150,000 copies, launching the company's natural building and renewable energy list and helping establish our recognized leadership in this field.
Interviews & Company News
From the content of its books to the paper it prints on, Chelsea Green Publishing is known for its focus on sustainability. But if that word suggests that operations at the Vermont-based publishing house move at a modest pace, president and publisher Margo Baldwin quickly dispels it when she says, with no small amount of pleasure, "There's just one more thing."
"Just one more thing" includes a number of new projects that touch nearly every facet of the 34-year-old indie publisher. Sales are up 7% since 2016, and in one week in early March, Chelsea Green launched a redesigned website, completed moving 500,000 books to a new warehouse, and opened its first overseas office, in the U.K.
In 2014, Chelsea Green celebrated 30 years of independent publishing with the release of The Chelsea Green Reader. In addition, the company's longevity, and business practices were featured in a number of local and national publications. Here is a selection:
Company Timeline [An abbreviated history]
2018
Chelsea Green opens its London, UK office
Warehouse operations transition to Books International
Fasting and Feasting named a finalist for the Los Angeles Times Book Prize
Mastering Stocks and Broths named a finalist for a James Bead Foundation Book Award
2017
Chelsea Green launches its audio book program, won AudioFiles' "Earphones Award" for Fasting and Feasting
Fasting and Feasting named a New York Times "Notable Book of the Year"
Doughnut Economics won the 800 CEO Read Business Book of the Year: Current Events & Public Affairs
Lean Logic won "Best in Category" design awards from the New York Book Show and the New England Book Show
Black Trumpet won the Readable Feast Cookbook "Best Overall Book" award
2016
Chelsea Green launches partnership with sustainability-focused Sterling College's School of the New American Farmstead program
The Lean Farm won the Shingo Research Award
The Hop Grower's Handbook won the Garden Writers Association Silver Medal: Technical/Reference
2015
Pawpaw was a finalist for a James Beard Award
The Occidental Arts and Ecology Center Cookbook won a IACP Cookbook Award: Food Matters
2014

Chelsea Green Publishing celebrates its 30th anniversary with the publication of The Chelsea Green Reader
The Resilient Farm and Homestead wins the 2013 American Horticultural Society Book Award
Growing Food in a Hotter, Drier Land won the Silver Medal in the Garden Writers Association Book Award
Good Morning, Beautiful Business by Judy Wicks won a Gold Medal in the Nautilus Book Award's Business and Leadership category
Cows Save the Planet by Judith Schwartz won a Silver Medal in the Nautilus Book Award's Green Living/Sustainability category
2013 The Art of Fermentation wins the James Beard Foundation Book Award – a first in company history – in the Reference and Scholarship category
2012
The Art of Fermentation becomes the fourth New York Times bestseller in company history
The Holistic Orchard Wins the 2012 American Horticultural Society Book Award
Chelsea Green Named ForeWord Reviews Independent Publisher of the Year
Chelsea Green becomes an employee-owned company
Sex and the River Styx by Edward Hoagland wins the prestigious John S. Burroughs Award for environmental writing, only the second author in company history to achieve this honor.
2011
Chelsea Green opens its Burlington, Vermont office [closed as of Aug. 2016]
Chanterelle Dreams, Amanita Nightmares by Greg Marley wins the International Association of Culinary Professionals Jane Grigson Award
2009 Book Business Magazine Names Margo Baldwin One of the Top 50 Women in Publishing
2008
Chelsea Green Named Longtime Leader in Sustainability by SustainPrint Leadership Awards
Obama's Challenge is published, becomes a New York Times bestseller
The Carbon-Free Home by Stephen and Rebekah Hren is Awarded Foreword's Book of the Year Award – Gold Winner
Distributed Author Joel Salatin wins a Heinz Award
Perennial Vegetables by Eric Toensmeier Wins the American Horticultural Society Book Award
2007
The End of America is published, becomes a New York Times bestseller
Perennial Vegetables by Eric Toensmeier is Awarded Foreword's Book of the Year Award – Gold Winner
2006 Chelsea Green Named 2005 Publisher of the Year by New England Independent Booksellers Association
2004
Chelsea Green publishes our first New York Times Bestseller  — Don't Think of an Elephant!
Chelsea Green publishes Wild Fermentation by Sandor Ellix Katz, which helps to spark a fermentation revolution in the US
1997 Chelsea Green moves to White River Junction, Vermont
1994 Chelsea Green publishes The Straw Bale House, which remains one of the company's all-time bestselling books, and helped to spur a natural building movement in the US.
1989 Chelsea Green publishes The New Organic Grower by Eliot Coleman, which quickly became one of the company's all-time bestselling books, and helped to spur a renewal in organic farming and gardening.
1988 Author Larry Kilham is awarded the prestigious John Burroughs Medal for his book On Watching Birds
1985 Chelsea Green's first book—In a Pig's Eye—is published!
1984 Chelsea Green is Founded